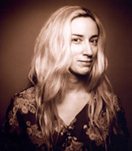 >> See my DJ schedule, project updates, new releases, and more on my Facebook artist page HERE
>> For DJ MIXES, CLICK the Boombox on the page at this link HERE
BIO:
Julie Covello aka DJ Shakey is part of New York City's Dj elite, and has spun at virtually every metro area nightclub that contributes to the culture. She created and directs "Shakey's Record Fair", the "Warper Party" (NY's largest monthly electronic music showcase), and the original NYC clothing swap "Thrift On!". Shakey has been rated one of the best wedding Djs in the country and one of the top 15 event Djs in New York.
Shakey is a resident Dj for Gotham Girls Roller Derby competitions, Gemini & Scorpio Events (Swing House, Nouvelle Epoque, the Russian Baths), Rubulad, House of Yes, Bass Fueled Mischief,  Dubday Mondays (Dubstep), and regularly spins events at the prestigious CORE: Club. She has performed as a guest Dj on WFMU, EVR, BMIR, WNYU and hosts the weekly "Warper Party Radio Extravaganza" on ArtonAir.org.
She has written about music and more for Wax Poetics, Sweet Action, and Bust magazines. Shakey is a contributing writer to the electronic music site Controllerism.com. She owns a 9000+  vintage vinyl record collection, performs with her bass and laptop duo "FreebassBK", and volunteers to teach young women to Dj at the Willie Mae Rock Camp for Girls.
Prior to becoming a full-time Dj, she worked in the music industry as a producer for MTV Networks, Rockamerica Video, and Pseudo.com. She also produced, wrote and directed a full-length documentary film, "Prohibited Beatz" featuring drum phenom Jojo Mayer, as well as numerous music videos and promotional videos.
Julie  can be reached at 201-679-9736